Pastoral Care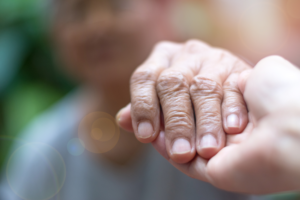 The Catechism in the Book of Common Prayer describes the Church's mission as
follows:
The mission of the Church is to restore all people to unity with God and
each other in Christ.
At St. Mary's, we understand this mission holistically, seeking to be present to one another through all the ups and downs of life as we walk with Christ. As members of the Body of Christ, we care for one another in various ways. Led by the clergy team, we share in a robust network of pastoral care that is grounded in prayer and the sacraments, offered for all ages.
If you wish to receive a visit from a priest or deacon, please do not hesitate to reach out to the clergy directly, or to speak with our parish administrator. Clergy visits can include conversations about faith, pre-marital counseling, visitation of the sick, and end of life planning.
Several other care ministries are limited to phone or email conversations at this time due to the Covid-19 restrictions, but still form a vital part of our parish life. We eagerly await their return in full! They include:
Home Buddies, email Patti Walls to arrange a phone call.
Stephen Ministry, email Mike Hennen.
Lay Eucharistic Visitors, email Carroll Ann Miller.
About St Mary's Prayer List
Prayer is at the very heart of our life together as members of Christ's Body. We pray for peace, for justice and freedom, for our loved ones and friends, and for the intentions of the entire parish community. Our St Mary's prayer list is a big part of our spiritual life, and the collective power of prayer cannot be overstated. Since we believe so fervently in the power of prayer, we are taking some steps to make sure that our prayer list is updated regularly and communicated to you all in several ways.
St Mary's maintains a published prayer list, which is added to the bulletin and to the e-news each week. 

To add someone, please secure permission to use either the first and/or last names from the person to be added, and then contact Denise Story at 336.886.4756 or by email at admin@stmaryshighpoint.org. Denise needs your name and contact information so we can get pastoral updates periodically.
Individuals will remain on our prayer list for one month unless the request is renewed, which you are welcome to do at any time.
Each week in church during the Prayers of the People, we will read the first names of ten people the Prayer List. The full list will continue to be published in the back of the Sunday bulletin. It will also be shared each week in the parish e-News so that you may print it off or keep it handy at home.
Private intentions for prayer may be communicated to the clergy directly.
Thank you for your understanding and care in this matter. Please do not hesitate to contact one of your priests if you have questions or concerns.