Formation: Middle & High School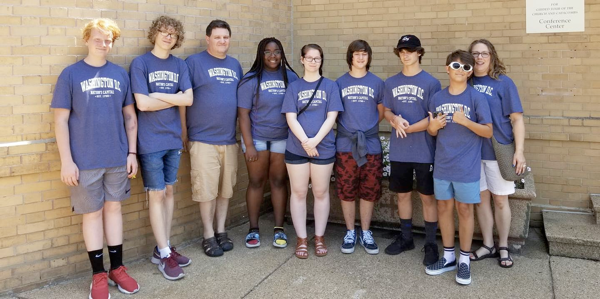 The EYC (Episcopal Youth Community) of St. Mary's is a vibrant and growing community of young people in grades 6 to 12, and adults who come together for the purposes of learning about God and each other, sharing, worshipping, spiritual formation, outreach, and fun. Youth are encouraged to participate in every aspect of life at St. Mary's. Youth serve as acolytes, lay readers, members of the altar guild, greeters, and more. Membership at St. Mary's is not a requirement to attend and participate in any part of this community. All are welcome! 
At the beginning of the school year 2022/2023, St. Mary's embarked on a new path, using Journey to Adulthood. This cohort-based curriculum groups youth into two-year cohorts, with whom they stay all six years. The first two-year cycle is called Rite 13, the second is called J2A, and the third is called 4WARD. By being with the same peers through the program, the hope is that there is time for deepening relationships and trust. It also helps ensure everyone is on the same page and is encountering the material for the first time together. Each two-year level has lessons grouped under the themes of Spirituality, Society, and Self, which delve deeply into Jesus's call to his disciples to love God and love their neighbors as themselves. Youth explore these themes in age-appropriate ways from various angles, through discussion, Bible study, games, crafts, and the occasional off-site trip or service project. Cohorts are never closed and there is always room for one more. We currently have one Rite 13 cohort that meets weekly during the program year on Sunday, from 4:30 to 6 pm. 
During the school year, our Senior High EYC group meets every other Sunday evening from 6 to 7:30 pm. Activities include outreach, art, games, scripture study, and worship. 
St. Mary's is a faith community dedicated to sharing the Gospel of Jesus Christ with the young people of our parish through fellowship, worship, and service. St. Mary's takes a whole-person approach to Youth Confirmation. In doing so, we are able to reach youth where they are on their own spiritual journeys. Youths are eligible for Confirmation beginning in 8th grade or age 13. Don't hesitate to be in touch with our Director of Children's & Youth Ministry if your son or daughter is interested in Confirmation. For those who participate in Journey to Adulthood, there is a natural progression and an opportunity for those young people to choose to be Confirmed.  
Service and community engagement are basics of the Christian life, and we expect our young people to begin at an early age developing a love of service to one another and to their community, both local and global. Each summer a location is chosen as a Mission Experience for our young people. 
For more information about Youth Ministry at St. Mary's, please contact our Director of Children's and Youth Ministry, Amy Campbell, at 336-884-4733 or amyc@stmaryshighpoint.org.