Formation: Middle & High School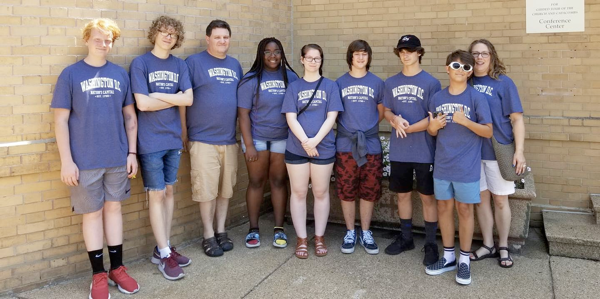 The EYC (Episcopal Youth Community) of St. Mary's is a vibrant and growing community of young people and adults who come together for the purposes of learning about God and each other, sharing, worshipping, spiritual formation, outreach, and fun.
Membership at St. Mary's is not a requirement to attend and participate in any part of this community. All are welcome!
Christian Formation: Youth are encouraged to participate in every aspect of life here at St. Mary's. Youth serve as acolytes, sub-deacons, chalice bearers, lay readers, members of the altar guild, greeters, and more.
Episcopal Youth Community (EYC): During the school year we gather on Sunday nights from 4:30-6:00p.m. Activities include outreach in the community, fellowship activities and worship. Middle School EYC meets in the Youth Room of the CLC, lower level.
Our hope is that our young people will find some way to interact with the church and find meaningful service and worship that will enrich and bless their lives. If you have questions, please contact Amy Campbell.
Youth Confirmation: St. Mary's is a faith community dedicated to sharing the Gospel of Jesus Christ with the young people of our parish through fellowship, worship and service. St. Mary's takes a 'whole person' approach to Confirmation. In doing so, we are able to reach youth where they are on their own spiritual journeys. Youth are eligible for Confirmation beginning in 8th grade or age 13. Please contact our Director of Children's & Youth Ministry if your son or daughter is interested in Confirmation.
Worship: Youth members of St. Mary's participate fully in parish life through serving as acolytes, on altar guild, chalice bearers, and much more!
Yearly Events: Throughout the year, youth participate in specialty events from chili cookout to fundraisers to mission trips!
Mission Experiences: Service and community engagement are basics of the Christian life, and we expect our young people to begin at an early age developing a love of service to one another and to their community, both local and global. In previous years, each summer a location is chosen as a mission experience for our young people. We look forward to resuming our mission activities once it is safe to do so!
For more information about Youth Ministry at St. Mary's, please contact our Director of Children's and Youth Ministry, Amy Campbell, at 336-884-4733 or amyc@stmaryshighpoint.org.