Formation: Adults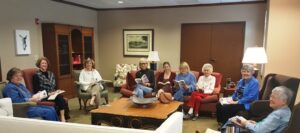 At St. Mary's, we affirm that Christian Formation is a life-long process. We continue to grow in our faith, long after we've moved on from Sunday School as children.
Adult offerings for the month of August will meet at 6:30 Wednesday evenings in the Parish Hall. If you can't make a session, catch it on our YouTube channel.
August 4
Christianity & the Climate: an ecumenical perspective
August 11
The Book of Common Prayer: past, present, and future
August 18
Jesus & Money: a scriptural investigation
Sunday Mornings    (currently on hold for the Summer months)
Opportunities for Adult Formation take place at 10:00 am each Sunday Morning.
In the Parish Hall, we have The Forum. The program year is divided into several short courses. Short course topics vary widely, from environmental stewardship to worship 101. These courses are led by clergy, staff members, parishioners, and guests.
St. Mary's Adult Formation will spend the month of July preparing for standalone lecture/discussion sessions for the month of August on various topics in Anglican spirituality.