Formation: Adults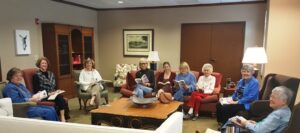 At St. Mary's, we affirm that Christian Formation is a life-long process. We continue to grow in our faith, long after we've moved on from Sunday School as children.
We offer a opportunities to learn, pray, and discuss on Sunday mornings from 10:15 to 10:45 am and Wednesday evenings at 6:15 pm. Our Women's Bible Study meets Wednesday mornings at 9:30 am.
Subscribe to our e-news to get the most up to date information.